Practical training in small scale irrigation (SSI) and micro irrigation (MI)
It is important to find the necessary means and facilities to train (practical) skills of small scale irrigation (SSI) and micro irrigation (MI) to the students. A way to achieve this is that a practical training should be given in collecting data for irrigation and after the design of SSI/MI facilities. Therefore an irrigation infrastructure should be created in which these practical training on the different aspects of SSI/MI can be performed.
The purpose of the irrigation training facilities are intended for the training of the students in the Crops, Live Stock and Natural Resources Department of the college. It will enhance their performance in carrying out irrigation (as an assistant - supervising) and enhance their knowledge and practical skills on design and implement different SSI/MI methods. By conducting practical training in the field to measure characteristics relating to topography, soil and water, the studens will gain a better understanding of it and to the importance of it in their future role as a development agent in determining irrigation method/systems, pumps, fertilizer programs, crop choices, topography etc.
To make successful designs of irrigation systems it is obvious that the important parametrs of water, topography and soil need to be measured in the field and by laboratory tests. This can practically be done by implementing vocational training with field (laboratory) equipment.
By doing the practical training it also gives an insight in the performance of field laboratory work in thye course. It will be also possible to store the equipment in the laboratory at Agarfa so this can also be used later on by students of the Crops, Live Stock and Natural Resource Management departments.
During the training the following subjects have been reviewed:
Crop choice and calculating crop water requirement. This knowledge is needed to make an irrigation calendar or schedule and also to know which (system) capacity should be installed;
Physical properties which include soil texture and topography. Both factors determine the choice of irrigation method and field or scheme lay-out;
Methods of gravity irrigation such as furrow, border or basin irrigation. Pressurized irrigation e.g. overhead and drip irrigation methods;
Pipe design and pump choice based on pump curves;
Making topo-map, lay-out and design;
Calculating irrigation equipment;
Calculating costs;
Construction irrigation systems in the field;
Monitoring irrigation systems;
Although the above mentioned subjects are all knowledge intensive and participants had to do a lot by themselves (drawing/designing, making calculations etc.) after the course they felt more competent.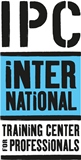 Ethiopia 2019
Our colleague of IPC International, Jos Kroets, went in June to to Ethiopia for the project ''Practical training in small scale irrigation (SSI) and Micro irrigation (MI) for the Agricultural and Technical Vocational Education Trainingcenter (ATVET) in Agarfa". These project is made possible by Nuffic (The Dutch organization for internationalisation in education). IPC International contributed to the contractor Q-Point Consortium, and is responsible for the water-related training.
The first three days in Agarfa, Ethiopia, Jos has together with contractor Hikas and 15 teachers of ATVET Agarfa, been clearing al the pipes and has made the water pumps ready for use. After all the equipment was cleared to be used Jos started to train the 15 water- and irrigation teachers. During the training they've practiced on flow rate measurment in pumps, channels, furrows, syphons and pipelines. After the training the teachers are qualified to teach their students the subjects they've learned from Jos.
After 5 years of (practical vocational training in)…
Levelling
Water and soil research
Production of maps from the area
The selection of crops (vegetables, fruits)
Design of 6 different types of irrigation systems (basin, furrow, zig/zag, drip, sprinkler and mini sprinkler)
Make contracts
Selection of the contractor
Management
Rain and drought
Difficult political issues
The project is a succes. Next week ATVET starts to plant bananas, citrus trees, cabbages, tomatoes and onions. Everything will serve as a practical vocational training location for the students of the ATVET. Beside the students of ATVET also students from other organizations like universities are going to obtain practical vocational training on the build location in Agarfa
For further information you can contact Jos Kroets via j.kroets@ipcgroen.nl